About Us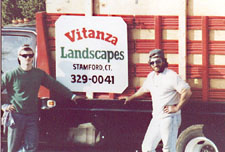 In 1980, Tim and Mike Vitanza founded Vitanza Landscapes. Each brought an essential ingredient to the business: Tim, his expertise and passion for landscaping and Mike, his expertise and passion for construction. Both brothers worked the landscaping side of the business until 1994 when Mike decided to concentrate full time to grow the construction side of the business.
Sadly, in the fall of 1994, Tim passed away. Mike decided, however, to continue the landscaping service in deference to his beloved brother's passion. During the 14 years that Tim and Mike worked side by side on landscaping jobs, Tim shared his expertise in landscape design and his knowledge of plantings with Mike. Today every landscape job Mike undertakes -- from start to finish -- is inspired by Tim's passion and the insights he so enthusiastically shared with his brother.
Today, Vitanza Landscapes, Masons and Fence Contractors employs an experienced crew. Vitanza foremen bring over 14 years of experience to the job. Mike and his crew appreciate the business awarded them by their customers and take pride in their work. Each and every customer is treated with respect. Mike approaches every landscaping, masonry and fencing job as if he were doing the work for his own home. He is committed to being present on every work site to ensure quality service, quality work and a quality end product .
Mike Vitanza is fully insured and licensed (#547553) by the state of Connecticut . He holds a Bachelor of Sciences Degree in Outdoor Education and Horticulture.